Anton Pavlovich Chekhov's museum in Moscow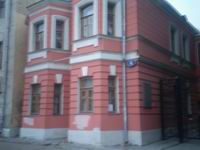 Telephone : (495) 291-3837, 291-6154
Address : 103001, Moscow. Sadovaya-Kudrinskaya, 6
Travel : Station of metro "Barrikadnaya", "Mayakovskaya", "Krasnopresnenskaya". Then you should go by trolleybus: B, 5, 10; S.. 6, 39, 64
Hours : Tuesday, Thursday and Saturday, from 11.00 to 18.00; Wednesday, Friday from 14.00 to 20.00, except Monday and the last day of each month.
E-mail :
muzchehov@rambler.ru
Foundation date:
01.01.1954
AP Chehov lived in the house since the autumn of 1886 to the spring of 1890 This was his creative rapid growth. It created the first substantial works. The museum restored the Cabinet and bedroom of A.P. Chehov, brother Michael room, lounge and room nurse Mary; In the rest rooms, literary exposition devoted to the life and works of the writer. At the heart of exposition are personal archive material of Chehov donated State by Chekhov's family.
The museum organises guided tours, lectures, literary and musical evenings.
Key officials:
Director : Scheboleva Galina Fyodorovna, tel. (495) 290-43-65
Address Management:
Petrovka 28
Lawful Form : a non-profit institution
Classification organization : Literary, Music, Theater
Area organizations:
exhibition area is 218m2
A higher authority:
State Literary Museum
The partners:
Museum of K. S. Stanislavsky
Museum of the Moscow Art Academic Theatre (Theatre Museum)
Museum-apartment of V.I. Nemirovich-Danchenko
Aleksandrovsky historical-literary museum "A.P. Chekhov and Sakhalin"

The House of Firgang in Moscow on Malaya Dmitrovka (now it is Chekhov street), where Chekhovs lived from 1890 till 1892. Etude of Mariya Pavlovna Chekhova. This picture is in Moscow's museum of Chekhov

"A.P. Chekhov in front of his portrait in Tretyakov gallery". Cartoon by A. A. Hotyainczeva. Water-color, 1898. This cartoon is in Moscow's museum of A.P. Chekhov

Outhouse in Babkino. A room of A.P. Chekhov. Water-colour by Mikhail Pavlovich Chkhov, 1885. This picture is situated in Moscow's museum of A P Chekhov

A sitting-room in the Chekhov's apartments on Sadovaya-Kudrinskaya street. Picture by M.P. Chekhov, 1889. This picture is in the Moscow's museum of Chekhov.