"The girl in blue". A picture by N.P. Chekhov, 1881. This picture is in State museum in Melihovo
State literary-memorial Chekhov's museum-reserve (Melihovo)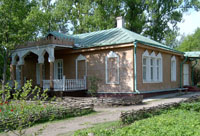 Telephon : +7 (499) 390-94-74
Address : 142326 Moscow, Chehovsky district, the village Melihovo, Chekhov's Museum
Travel : From the Kursk station to Chekhov station by electric train "Chekhov" "Tula" or "Serpuhov ", then by bus or taxi routing No. 25 "Nerastannoe" to the Melihovo.
Hours : daily from 10.00 to 17.30, except Monday and the last Friday of each month.
Web-site: melihovo.ru
E-mail : melikhovo@mail.ru
Observances and annual events :
18 May - International Day of Museums
29 January - Chekhov's birthday
15 July - Day of Remembrance of Chehov
23 May -Day of the museum's foundation
29 October - The museum's opening date
Melihovo is one of the greatest monuments of Russian culture. Here from 1892 to 1899 lived and worked great Russian writer Anton Pavlovich Chekhov. Museum carefully preserves the memory about Chekhov, doctor, public figure. You will found out how looks Melihovo what did Anton Pavlovich during his being in Melihovo. You will visit rooms where Chekhov lived, walk through alleys, which recall Chekhov's steps, dive into a world of a great man and a great writer.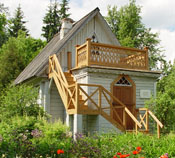 Melihovo drew opportunity to delve into the spiritual of Chekhov's time. Collection of the Museum in Melihovo has more than 20,000 exhibits. Museum's funds offers a wealth collection of paintings, works of I. Levitin, V. Polenov, I. Braza. The most interesting section - paintings by Chekhov's family. The collection of photos, stored in the house, keeps the history of that house, shows the portraits of the people close to the writer in his literary, theatrical and social activities. Actors, directors, playwrights come here to see the facility where was written "The Seagull". There are constantly concerts, theatre and music festivals, children's events, Christmas trees, theatrical tours for children, in Melihovo.

The building (s) :
Individual fixtures of late 19th century
Founder : Avdeev Yuri Konstantinovich (1918-1987)
Major tours :
Life and art of Chekhov in Melihovo
Key officials :
Director : Konstantin V. Bobkov, tel. 546-5396
Deputy Director : Bychkov Yuriy Aleksandrovich
Chief Conservator of : Chaykovskaya Ksenia Abramovna
Scientific Secretary : Razumovskaya Tatiana Nikolaevna

Telephone Management :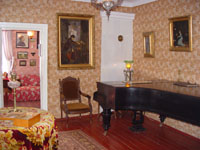 +7 (499) 390-94-74
Address Management :
142,326, Moscow region, Chehovsky district, the village Melihovo, GLMMZ AP Chehova
Lawful Form : a non-profit institution
Type of organization : Cultural
Classification of organization : Literary, Museum, or Personal Memorial
Area of organizations :
exhibition area is 716m2
depository 168m2

Number of employees : 121, including 60 scientific
The average number of visitors per year : 58600
A higher authority : The Ministry of Culture of Moscow Region
The partners :
Museum of K. S. Stanislavsky
Museum of the Moscow Art Academic Theatre (Theatre Museum)
Museum-apartment of V.I. Nemirovich-Danchenko
Sponsors, patrons of art and funding :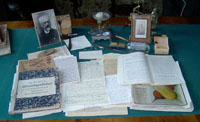 Endowment Fund V.I. Potanin
Confectionery "Mechta"
Maliy Theatre of Russia
The most valuable collections (unique) :
The documentary Fund (photographs, manuscripts, books) 14201 exhibits.
Subjects of ethnography 1.863 exhibits
Icons Fund (paintings, drawings, sculptures)
Major exhibition projects :
"Museum's treasures of Moscow's region ,1996
"Golden crown suburban Moscow" Moscow's Kremlin ,1996-2000.
"Chekhov and his time," Hungary, Bulgaria, Yugoslavia, Germany 1998-2000.
"Chekhov-route to modernity" Germany, Munich 2005.
Field and exchange exhibition :
Serving the common good
Chekhov during his being in Melihovo is a doctor, a school builder, social figure. Here is the origins of his art. 42 works were written in Melihovo, reflecting the life of this period.